Back to all press releases
2021 - a successful year despite COVID-19: GVL pays out more than ever before
"We had scheduled more distributions than ever for 2021", GVL Managing Directors Guido Evers and Tilo Gerlach explain. "From the first day of the year, we put every effort into meet-ing these ambitious distribution schedules. Especially these days full of uncertainty for crea-tives and their partners, we placed our priority on paying out as much as possible to our rights holders. As a result, we managed to surpass the peak value of the previous year by another EUR 45m."

In total, GVL distributed EUR 337m to its rights holders spread across 15 distribution runs in the past year; add to that the quarterly payouts of forwarded foreign revenues. Just to com-pare: In 2020, about EUR 292m were paid to producers whereas the remuneration was at EUR 219m in 2019.

At the same time, the number of the rights holders participating in the distributions has contin-ued to rise. As such, more than 142,000 performers received remuneration in the final distribu-tion 2016 from GVL. This is not least due to the fact that the creatives are more active when it comes to registering their contributions to productions.
Against the background of record payouts, GVL managed to reduce its reserves and liabilities 2021 by more than EUR 100m, for a second year in a row.

Looking at the income situation in 2021, the GVL Managing Directors point out: "Even if the balance sheet is only prepared as we speak, we were able to take a first positive glimpse: De-spite the effects of the pandemic on the creative industries, we expect stable results for 2021 overall." The final figures for the financial year 2021 will be published in the annual accounts in the early summer and form the basis of the initial distributions in the third quarter."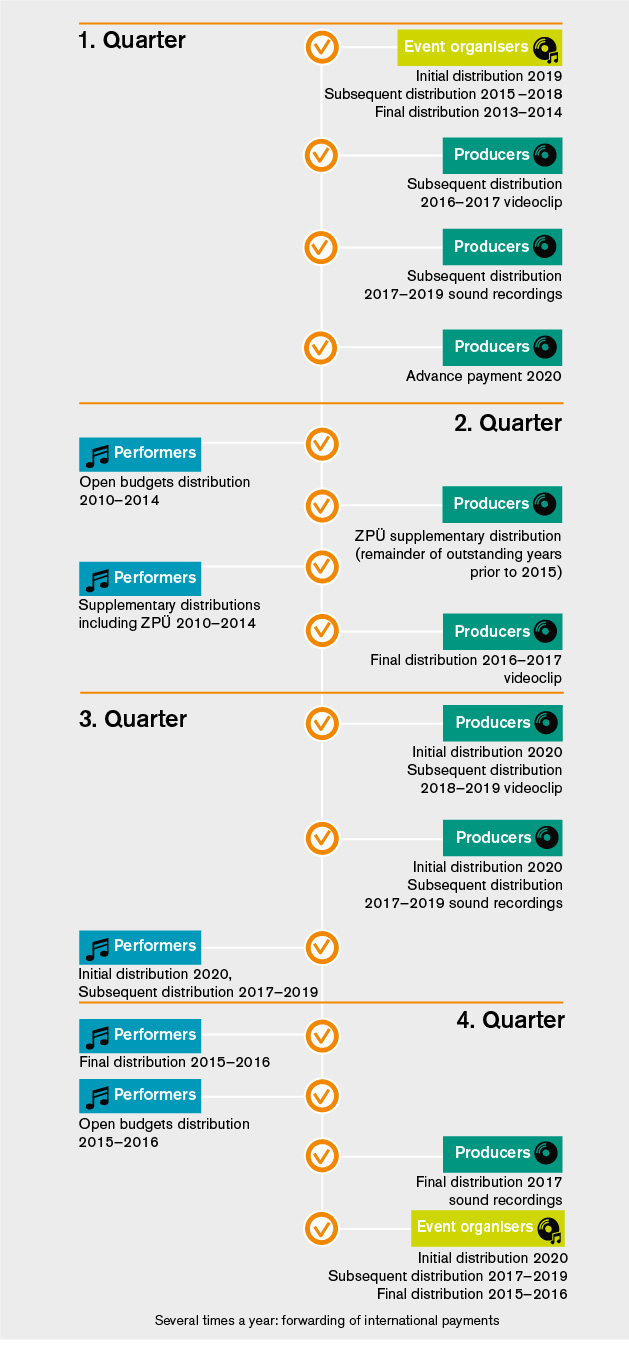 About GVL:
Those who render artistic performances or create the respective financial basis for the latter must receive money for the exploitation of their performances. GVL, the society for the administration of neighbouring rights, captures and manages such exploitations. GVL pays the fees it collects on a fiduciary basis e.g. from radio and TV stations and for the communication to the public (e.g. in restaurants or cafés) to its members in the form of a remuneration each year. More than 160,000 performers, producers of sound recordings and audiovisual recordings, music and music video clip producers as well as event organisers have placed their trust in GVL on a global level - and thus make GVL one of the biggest collective management organisations and music licensing companies for neighbouring rights in the world. Shareholders of GVL are the German Orchestra Association (DOV), the Federal Association of the Music Industry (BVMI), the Federal Acting Association (BFFS) and the Association of Independent Musicians and Music Companies e.V.(VUT).