GVL has a new look and corporate design
We used the last year to apply a fresh new look: As part of optimising our communication measures, we gave GVL a fresh lick of paint for its appearance. The first poster child is the GVL website which received a complete relaunch. Apart from the digital annual report, we introduced other new formats.
Our new corporate design was very important to us. The creative sector and the GVL rights holders are diverse; our portfolio is now just as diverse and colourful. At the same time, we intend to use this colour pallet to appeal to our various target groups optically: From now on, each rights holder group of GVL has its bespoke colour. Rights holders can now intuitively recognise the contents that are relevant to them e.g. on the website, in social media such as Instagram and at our events. General GVL related information is kept in orange, topics for performers are blue, producers are petrol etc.
Image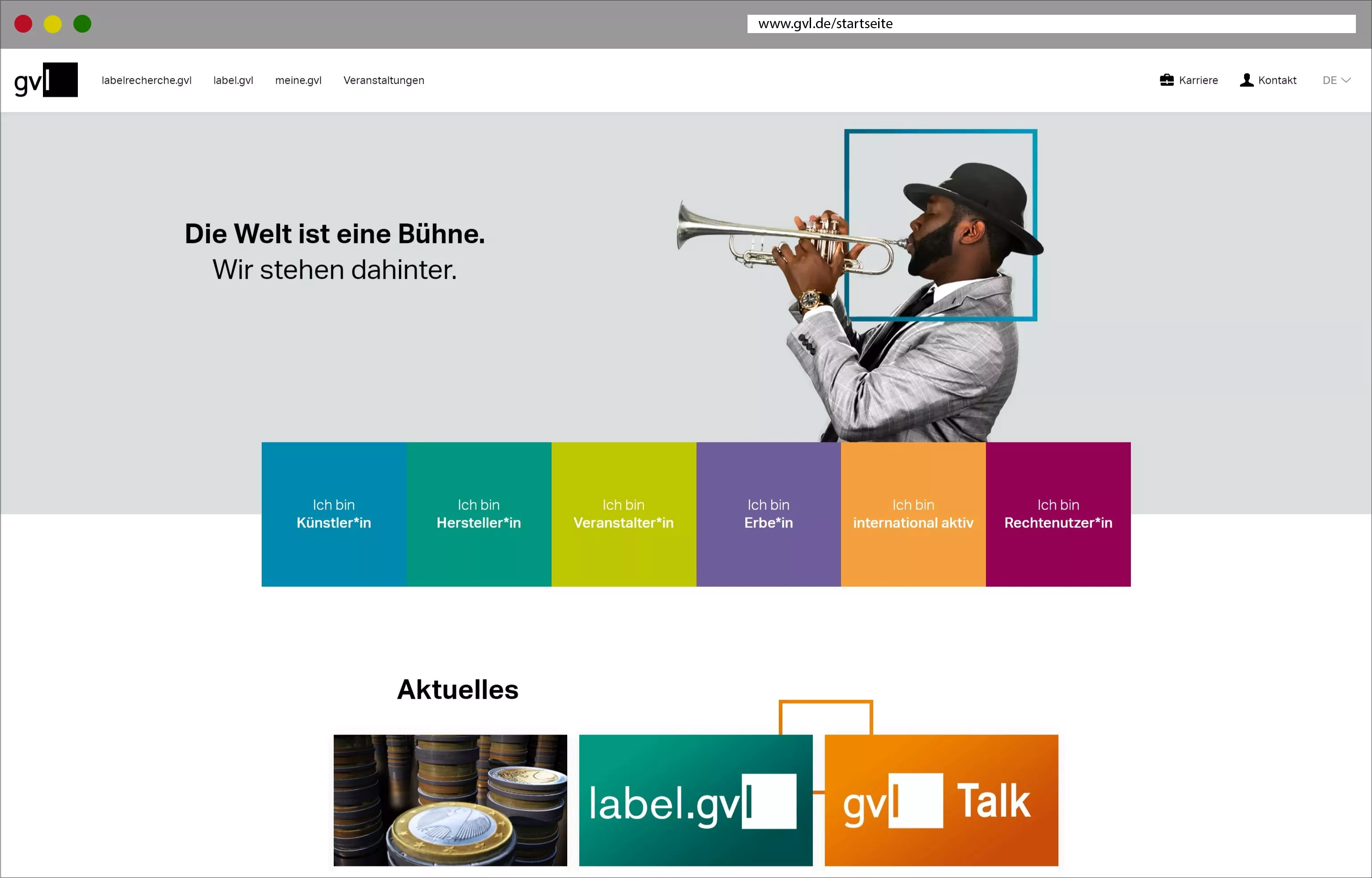 Welcome to the new GVL website
The GVL website at gvl.de is the first point of contact for many of our rights holders. In order to continue to offer our public online services in terms of state of the art, we launched our completely revamped website in a new look in mid-July 2021. Apart from a plethora of other features, the new website features a new functional design which follows the new colours of the rights holder groups.
Digital annual report
Working together has shifted more and more into digital space over the last few years. The digital transformation is now a fixed element of corporate culture at GVL. We also wanted to represent this development in the way we present GVL on the outside. That is why we are developing contemporary publication formats which can be used on all mobile devices. Since last year, the GVL Transparency Report is accompanied by our digital annual report our website. This text is the second issue. It offers you a compact format to read about the topics that occupied us in the past year. If you wish to get a deeper insight into business figures, you can find out more in our Transparency Report. With one click, you can also navigate to the 2020 digital annual report of GVL.